Double-sided adhesive tape: Different types and widths of 6 mm, 9 mm, 12 mm, etc. Allow paste any surface quickly and cleanly for countless applications such as fixing clichés, splice reels, binding, plastic folders, etc. They provide lasting, effective and reliable fixing.
Packing tape: In PVC and Polypropylene solvent technology for packaging and other uses and applications workshop is manufactured in different colours brown, transparent, white, etc. and different thicknesses.
Creasing matrix: For advanced creasing. Pro-Crease and Poly-Score qualities with 3M adhesive.
Packaging Film: For manual palletizing, 23 micron in transparent, white or black.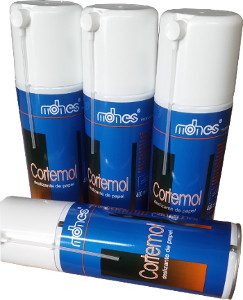 Banding: In polypropylene, polyester or steel. White or black colors, various widths and lengths.
Adhesive Points: Double-sided to adhere to cardboard, plastic, paper, etc.
Spray adhesive: For mounting posters, ferros, polyester, etc. With repositionable adhesive or fixed,
brands like 3M, 75, Mount and Instant.
Silicone spray Cortemol: Spray for sliding and nonstick paper handling and cardboard guillotines and metal surfaces. Also used as a protective moisture and lubrication of moving parts in machines and other surfaces, it is water resistant, will not rust, it is not corrosive.