Foam: With or without adhesive in various thickness of 5 mm, 10 mm, etc. Variety of finishes and qualities
Eco solvent cartridges fully compatible with the original: No need to touch the color curves if they replace the originals. For models:
Agfa Grand Sherpa
Epson with head 10000, DX4 / 5
HP Models: 9000/10000
Mimaki models: JV33 130/160, CJV30, Mimaki JV5, Mimaki and Mimaki JV3 SS2
Mutoh Models: Rockhopper Series I, II & III, Spifire 65/90, 100 Extreme, ValueJet 1204/1304/1614.
Oce Models: 6060/6100
Roland Models: Soljet Pro I, Pro II & Pro III, VersaArt RS-640, VersaCAMM VS-640, VP-540i / 300i, VersaCAMM series, AJ1000.
Seiko Colorpainter CP64 and CP100 
Original cartridges and maintenance tanks: For Epson plotter 4900, 7800, 7880, 7900, 9700, 9800, 9900, and others models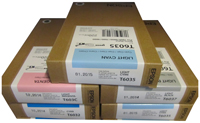 Print layouts Film Plotter: Film inkjet for color separations for screen printing and flexography high precision.
Cold rolled: PVC film adhesive acrylic pressure sensitive, available in gloss or matte 80 microns for use in all inkjet printers
Tarps: Rear Black, Coated, Laminated, Double Face, Mesh … Wide variety of finishes and qualities:
Backlit or translucent: Canvas for application in bright backlit. It has a basis weight of 450.
Blockout or double sided: Opaque canvas for carrying banners or impressions that require the display of the two-sided printing. Both water resistant sun. Does not alter the colors after being wet. Canvas with European homologation certificate B1 / M2.
Frontlit: White canvas plasticized PVC coated polyester with a weight of 450/500. European homologation B1 / M2. It is the most common and best-selling canvas. It is used for banners, advertising, events, etc.
Certified Proofing Paper 200 g: Role of exceptional quality Dimensions: 373 × 30 m, 432 x 30 m, 610 × 30 m, 1067 m x 30 m and 1118 × 30 m.
Coated paper ferro: To testing Plotter imposition on supports 80 g and 90 g
Inkjet photo paper:
Imola 170 g Pearl Effect: High quality, fast drying, micro-porous, excellent image definition. Inner and outer.
Maranello 195 g Brightness and Satin: High quality, fast drying, micro-porous, excellent image definition. Good lamination. Inner and outer.
Rocket 190 g Brightness and Satin: High quality, fast drying, microporous, real and brilliant color. Economical printing.
Paper Trisolv: Especially suitable for solvent inks. Bright colors. Waterproof. Indoor and outdoor use. Billboards use in resistance and folding capability. High quality poster with actual photograph features:
Trisolv Standard Blue Back Paper 120 g
Trisolv Standard Satin White Paper 135 and 200 g
Polyester for laser printers: Polyester imagesetters and other utilities made in laser printers A3 and A4 of  75 microns.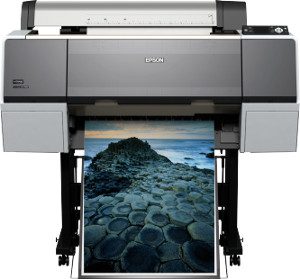 Plotter Epson 4900 – 7900 – 9900: Testing color, high-quality results, color accuracy, fast and reliable.
Roll Up: Display 220 mic. White satin gray rear for use in inkjet printing machines solvent, eco-solvent, UV and latex.
Spray adhesive: For mounting posters, ferros, polyester, etc. Repositionable adhesive or fixed, brands like 3M, 75, Mount and Instant.
Vinyl: Monomeric, Polymeric Micro-perforated, finished in gloss or matte. Permanent and removable adhesive color gray, white and transparent. For eco-solvent, solvent, UV and latex inks.